Denver Car Accident Lawyers
Call (800) 863-5312 to Speak with a Denver Car Accident Attorney for Free
A car accident can be a traumatic event that causes serious injury, medical expenses, vehicle damage, pain and suffering, and more. As a car accident victim, you shouldn't be stuck paying the price for another driver's negligence, nor should you have to face the physical and emotional burdens of your wreck alone.
At Zinda Law Group, our experienced car accident lawyers will fight tirelessly to protect your rights and to help you recover the maximum compensation you deserve. While we handle your claim, you can focus on what is most important: your recovery. Our firm also operates on a contingency fee basis, which means you will pay nothing unless we win your case.
If you have been injured in a car wreck, call Zinda Law Group at (800) 863-5312 or chat today for a free consultation with a skilled Denver auto accident lawyer.
You May Be Entitled to Compensation
In a car accident case, the nature and severity of the injuries you suffer are likely to determine the amount of compensation a court will award to you. Some common injuries suffered after a car wreck include:
Whiplash;
Back injuries;
Traumatic brain injury;
Broken bones;
Lacerations;
Spinal cord injury;
Paralysis; and
Other physical impairments.
You could also be awarded compensation to pay for medical bills, rehabilitation, loss of wages, vehicle damage, or pain and suffering. A car accident attorney at Zinda Law Group of Denver can help determine what damages you are entitled to and pursue them aggressively on your behalf.
You may have to negotiate with an insurance company and their attorneys for settlement of your claim. Insurance companies profit by denying or minimizing claims and will try to reduce the amount of compensation you receive. An experienced car accident attorney can help you negotiate with the insurance companies or individuals and ensure the best outcome for your case.
Our Denver Car Accident Lawyers Are Here to Help
If you have been injured in a car accident due to someone else's negligence, you may be eligible for financial compensation. By speaking with one of our experienced Denver car accident attorneys, you can begin to seek the retribution you deserve for your injuries.
Our auto accident attorneys have helped thousands of clients get their lives back on track after suffering a car accident. A nationally recognized law firm, we have been featured by Forbes, The Huffington Post, Super Lawyers, the Multi-Million Dollar Advocates Club, Three Best Rated®, and other prestigious publications and organizations.
Call Zinda Law Group today at (800) 863-5312 to receive your free consultation with one of our knowledgeable car accident lawyers in Denver.
Accident Stats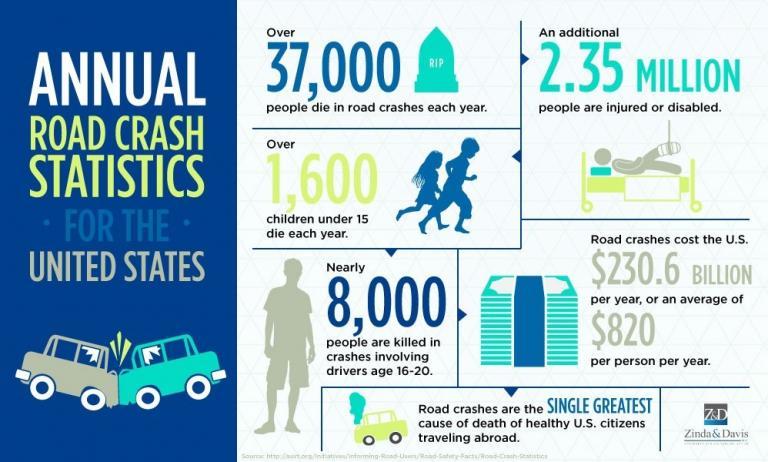 Helpful Tips
Denver Injury Advice: 7 Steps to Successfully Pursue a Car Accident Claim
Make sure that everyone involved in the accident is alright: The most important thing following an injury-producing wreck is doing everything possible to make sure all parties are safe. Secondly, if you are hurt, make sure you seek medical treatment immediately. By waiting to seek medical treatment, you risk delaying your healing process. Further, you provide the insurance company with an argument that your injuries were not caused by the wreck.
Take photographs: If possible after the wreck, get out of your vehicle and take photographs of the damages and scene. They could be very important in pursuing your claim. If you are able to take photographs of obvious injuries, continue to do so regularly. Also, do not forget to save or back up your photographs.
Don't be a hero: Many people involved in a wreck sustain injuries. All too often, those injured people try to fight through the pain that almost never goes away on its own. If you are hurt, go to the doctor. And do so early to ensure you can get the medical treatment you need to get back the way you were prior to the wreck.
Do not attempt to resolve your claim too early: When you resolve your injury claim, the insurance company makes you sign a release prohibiting you from asking for more money for the same claim in the future. Insurance companies know this. They may attempt to reach out to injured parties quickly in order to resolve the claim before the claimant has an opportunity to understand their legal rights.
Do not give a statement to the opposing party's insurance company: After almost every car crash, the opposing party's insurance company will try to contact you for a recorded statement over the phone. You are not legally obligated to give this to them. These statements can be used against you later, so it is wise to consult with a Denver personal injury attorney beforehand to determine if a recorded statement is in your best interest.
Do everything you can to get better: Clients often ask our car accident attorneys what they can do to help us pursue their claim. We tell them to do whatever they can to get better. Most of the time, that is going to be doing exactly what your doctor tells you to do regarding follow-ups, appointments, and limitations.
Contact a personal injury attorney: This will you allow you to analyze whether you need an attorney for your claim, will allow you to understand what your legal rights are, and provides an opportunity for you to get your questions answered.